Disaster Relief
Blessed Gérard's Care Centre is ready and prepared to give medical assistance and care in case of a disaster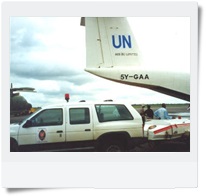 Our readiness and ability to assist as a Relief Organisation in Disaster Control and Civil Protection proven.
On the morning of Friday, 26th January, 1996, the Department of Water Affairs issued a flood warning for all people living along the Tugela River, amongst others. The local civil protection authorities were instructed to evacuate people living in the low-lying areas along the river, especially in the Tugela Rail area. When it was imminent that the Tugela river would flood parts of the Sundumbili Township, the management committee and the Director of Charity Works of the Brotherhood of Blessed Gérard held an emergency meeting to discuss what we, as a relief organisation, could do to help.
We had planned to set up two places of safety for people possibly being evacuated from their threatened area. One shelter was to be prepared using the church buildings of the Catholic Church in Sundumbili, which is presently the largest room in Sundumbili. Another shelter was to be set up in Mandini using St. Anthony's Catholic Church in Anderson Road. The Sundumbili shelter could have given room to approximately 250 to 300 people and the Mandini shelter may have had a capacity of 150 to 200 people.
Our contingency plans included setting up a co-ordination centre at the offices of the Brotherhood of Blessed Gérard and task groups for organisation & logistics, medical care, personal care, catering and transportation in each shelter.
From our 82 local active members
28 were not suitable (age or distance)
10 were in reserve and
44 were planned to be called out.
When we contacted these 44 active members
07 could not be reached by phone
06 had other commitments and
31 were ready and prepared to help.
In case of need, our 10 members in reserve plus the 7 members without phone would have been called in.
When we were convinced, after contacting our members, that both shelters could really be set up, we approached both the Mandeni Transitional Local Council emergency cell phone and the Superintendent Protection Services Officer, Mr. Blackie Swart, to express our readiness to help, if asked to do so by the local Civil Protection authorities. Our readiness was gladly acknowledged both by Mr. Swart and the emergency officer in charge.
We are happy to report that although this was a very informative exercise and pinpointed many talents amongst our active members, the big floods which had been predicted, did not materialise.
Thank you to all of you who so readily volunteered to be on standby the whole of that particular weekend.