The Relief Organisation of the Order of Malta in South Africa
The Brotherhood of Blessed Gérard
is an Association of the Roman Catholic Church (FBO),
the Relief Organisation of the Order of Malta in South Africa,
a Public Benefit Organisation (PBO 18/11/13/2769)
operated not for profit (NPO).
The Brotherhood of Blessed Gérard was founded in 1992 at Mandeni
in the Province of kwaZulu/Natal in South Africa.
We established and provide a comprehensive and holistic system of care
through Blessed Gérard's Care Centre by running:
Health Care Projects:
AIDS Relief, Hospice, Poor-Sick-Fund.
Child care projects:
Crèche, Children's home, Malnutrition Clinic, Bursary Fund.
Emergency Relief and Social Project:
Emergency Relief Fund

All these services were not developed on the drawing board, but were each a direct and effective response to identified emergency situations which had not been dealt with by others adequately. Our area was often referred to as the AIDS hotspot of the world. That is why we are particularly committed to the fight against AIDS.
Our organisation is named after Blessed Gérard, who founded the Order of Malta in 1099.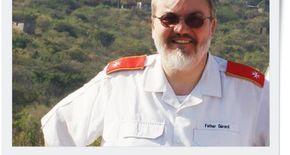 Father Gérard T. Lagleder O.S.B.
was born, raised and ordained a priest in Regensburg/Germany.
is a Missionary Benedictine of St. Ottilien Archabbey.
has been a missionary in South Africa since 1987.
founded the Brotherhood of Blessed Gérard in 1992.
is a Coventual Chaplain ad honorem of the Order of Malta.
More about him at his CV.