Members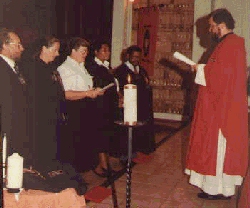 Dedicated members of the Fraternity consecrate themselves to Jesus Christ and his Body, the Church (cf. 1 Cor 12:27) with all their heart, with all their soul and with all their strength (cf. Dt 6:5) in an effort to be leaven (cf. Gal 5:9) of God's love in all their lives as members of their family, in their workplace and in their free time. Furthermore, it is their special task to initiate, facilitate, lead, support and be responsible for fraternity activities. Only baptised and confirmed members of the Roman Catholic Church who are known for their outstanding character, loyalty to the Church and good Christian living may become Dedicated Members. Termination of membership in the Church automatically cancels Dedicated Membership in the Fraternity.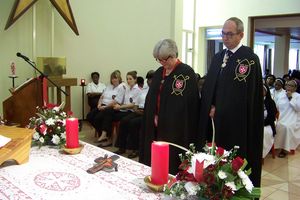 What are honorary members?
Extract from our Statutes:
Associate Members who have given outstanding support to the Fraternity may be granted Dedicated Membership h.c. by a majority vote of the Council of Dedicated Members. Honorary Members shall have all the privileges of Dedicated Members except the right to vote in the Council of Dedicated Members.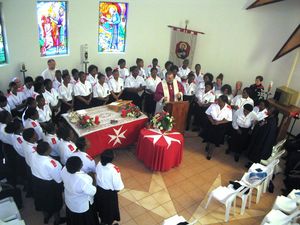 Associate members can be all people of good will who are willing to support the Fraternity in its aims and activities. They support the activities of the Fraternity spiritually through their prayers and sacrifices, financially through donations and membership fees and/or they may actively participate in its charitable activities.
5.2.1 Active Associate Members
Associate Members who participate in the activities of the Fraternity are called "Active Associate Members".
5.2.2 Supporting Associate Members
Associate Members who are not actively involved in the work of the Fraternity but who support the Fraternity financially or spiritually are called "Supporting Associate Members". As such, those who support the Fraternity spiritually are called "Spiritual Promoters" and those who support the Fraternity financially are called "Donors of Material Goods".
What are active members of the Brotherhood of Blessed Gérard?
Our statutes say simply: these are "members who participate in the activities of the Brotherhood".
These are well over 1000 wonderful people who have dedicated themselves to the various ministries of our organisation and carry them out as volunteers or full-time staff.
This includes
- all those who directly "lend a hand" to the patients, care recipients and clients entrusted to us,
- but also the few who have taken on responsibility in management and administration,
- those who work in the housekeeping area of the Care Centre
- and many who support us in fundraising, membership recruitment and public relations.
As our services as a South African aid organisation are of course carried out in South Africa - apart from a very few foreign assignments, public relations work and fundraising and membership recruitment - and concentrate on the projects of Blessed Gérard's Care Centre in Mandeni in kwaZulu/Natal, active membership is of course primarily intended for those people who can also carry out these services on site.
However, we have again created the possibility for people from abroad (i.e. non-South Africans) to volunteer with us. !
Reports from or about active members of the Brotherhood of Blessed Gérard
Dr. Katja Heering: Sawubona - I perceive you - March 2012
Dr. Katja Heering: Sawubona - I perceive you - March 2012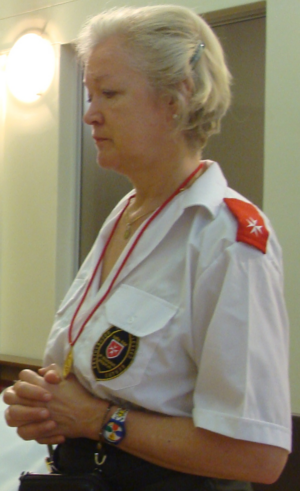 An experience report by Dr Katja Heering about her visit to Blessed Gérard's Care Centre from 9 - 22 March 2012.
It is not the first time I have flown to South Africa. I am lucky and have family who live wonderfully at the foot of the Helderberg, in the distance you can see the cool blue expanse of the Atlantic. But this year I combine the visit with the onward journey to Durban. And there Wiseman, a therapy consultant from Mandeni, picks me up. We drive 60 km through the lush green hilly country to the north of the metropolis of Durban. Here in Mandeni there has been the charitable centre of the "Brotherhood of Blessed Gérard" for almost twenty years.
Blessed Gerard lived in the Holy Land a long time ago. In order to be able to better help the needy of his time, he founded the religious community from which the Order of Malta was to develop, which to this day is dedicated to serving the poor and sick just like its founder 900 years ago. And one of the youngest branches of this living tree is growing here in Mandeni, South Africa, a more or less densely populated part of the province of KwaZulu/Natal. For there are many people in need here.
In 1991, a new parish priest was assigned to the parish of St. Anthony: Fr Gerhard Lagleder OSB, who is both an active Maltese (nurse, paramedic, trainer and specialist book author) and a convinced man of God. A body and soul worker, so to speak. He had only been in SA for four years, but already spoke Zulu fluently and had a chaplaincy in the north of the province. In his very first week, he is called to see a seriously ill woman. In reality, her illness is a lack of care. There is a lack of food, medicine, care, aids. The woman, who is by no means old, dies. Soon after, a request for help from a Zulu family of many came to the parish; Father Gerhard passed it on via the pulpit, and in a very short time, through the initiative of Mrs. Clare Kalkwarf, a working housewife and mother from St. Anthony's parish, viable solutions were found for the problems of this family. There are many serious problems here, the new priest notes, but there are also enormous resources. And just one year later, together with Clare Kalkwarf, her husband and another couple, he founded the Brotherhood of Blessed Gerhard (BBG). It forms the basis and ideal background for a charitable centre in Mandeni, as a breeding ground for:
1. 1995 a kindergarten near the sea in oWhebede.
2. 1996 a hospice and care centre next to St. Anthony's parish church, which are expanded in the following years to include AIDS counselling, children's home, emergency aid, sewing school etc.
3. In 2003, the medically supervised HAART treatment for HIV infected people.
The BBG building complex, made of light-coloured bricks, is situated next to the parish church, two storeys high, with Maltese crosses shining far and wide; it is constantly growing: Soon, work will begin on the second floor to add new, bright rooms for the children's home. This will be the fourth extension. On the ground floor, to the left of the main entrance, is the church dedicated to Bl. A tiny piece of his upper arm lies in the altar at the foot of a large crucifix, the corpus of which was carved from local wood by a local artist. "Thombothi" is the name of the wood, and its two-tone colour symbolically embodies a core message of this amazing place: light and dark wood together form the body of Christ - just as here in Mandeni a meaningful, life-strengthening synthesis has emerged from European initiative and its African execution. A kind of joint venture as the fruit of the Rainbow Nation.
Opposite the church are doctor's and treatment rooms for outpatients, behind them are training and meeting rooms. Once you have passed the reception, which is always manned, the common rooms (lounge and dining rooms, kitchen, scullery) are exactly opposite the hospice wards. This is also remarkable: the inclusion of the seriously ill in everyday life; there is always something going on in the corridor, the children run through here from time to time, staff members also talk and joke, all kinds of suppliers, visitors pass by ... This is quite different from the loneliness from which the lost were brought here. They belong, even as economically unsuccessful people they are part of the community here. And the children, who live just above the sickrooms, learn from the very beginning that illness and severe suffering cannot be separated from life. Adjacent to the large halls with up to nine beds are a few single and double rooms - for the last, most difficult moments, when the dying are offered human closeness, pastoral care and palliative care in dignified surroundings. The in-house laundry, material and workshop rooms make up the ground floor, above which are administrative rooms, flats, guest rooms and the various areas of the children's home. At present, 37 children have found shelter and acceptance at the BBG. Some of them were orphaned after the death of their AIDS-stricken parents or come from families where they could not have grown up unharmed. Here they are in the best of hands, experience a structured daily routine as a group with school, homework, spacious green areas to play in, and people they can trust. When some of them take part in a school concert, Father Gerhard and Aunty Caroline, the director of the home, are also among the audience, which has a good effect on their motivation. The children can stay here until they reach the age of 18, and even after that they are not alone in the world; the group of 12 to 16 year olds already lives in a separate flat on the second floor of the centre; here 10 young people train in preparation for independence; they cook, clean, keep order on their own responsibility.
At the time of the foundation of the hospice, the number of AIDS patients was 10% of the population; today, the depressing figures in this part of the province have increased eightfold. (1/3 of the total population of South Africa is HIV positive today, KwaZulu/Natal has twice as many people). Mandeni has become the AIDS world capital.
Why? The usual Euro-moral-centric mumbling doesn't help or explain much. The culture that has grown up here demands virile men with many wives and even more children. The latter are not only visible proof of virility but also guarantee care for the elderly. Condoms, which are distributed free of charge at the post office, bank, etc., are therefore not very acceptable. Besides, it is said, they protect as well as an umbrella can protect in very heavy rain. Just not completely. Apart from polygamy and traditional customs, the economic situation is a major factor in the misery. Since the end of apartheid, many of the local businesses have been in great crisis. More than half of all potentially employed people in this part of South Africa are out of work. Unemployment, impoverishment and even destitution came to a country that was already not prosperous. Today, many men work in far-flung provinces; when they come home, they bring little money and very often the HIV virus with them. The women who stay behind have to take care of the children and themselves. Since this is impossible without a job, the system of the so-called "sugar daddies" takes effect: A client 'rents' a woman for a certain period of time, who in return for her services, which are always available, regularly receives an allowance from him for her living expenses. This is enough, for example, for the costs of the flat, another sugar daddy pays for the food, a third takes over the telephone charges... and in all these contacts the HIV virus is passed on and on. Children of HIV-positive mothers are still born healthy, but 30% are infected during birth, and another 10% through breast milk.
The BBG Care Centre has adapted its focus to these paths of suffering and reduced their horror for quite a few people. It almost seems to me as if the Lord God has once again made provision when he sent his employee as a body and pastor into exactly this, sick, vineyard!
In the HIV world capital Mandeni, the BBG provides real and effective help: prevention in the form of broad-based education and care for the children of the sick, care and therapy for those affected, careful and compassionate care for the dying. And all this is done by qualified staff: 76 are permanently employed and professionally trained to varying degrees as nurses, nurse's aides, nursing assistants. The standard of care is high and is constantly monitored. Another thousand help voluntarily at the centre and receive a travel allowance and two meals for their service. It is an almost ideal relationship between workplace and staff; a 'win-win' situation. For the service provided at the centre not only means competent and philanthropic help for people who no one else would help; but working here secures both the material basis of the family, as well as bringing with it a considerable increase in social prestige. The bearers of the white Maltese Cross on a red background are highly respected, and the ambulances that tirelessly go out into townships and scattered Zulu settlements are welcome everywhere as bearers of assistance and competent help. And finally, what they learn here also benefits the sick in their own families.
Not all hospice patients die; those who can return home strengthened are visited by the outpatient clinic team for the time being. The Malteser trolleys also regularly appear at the homes of HIV-positive participants on AIDS medication, or the therapy counsellor comes to their homes. Information, knowledge about the disease is an indispensable prerequisite for all those who apply the HAART programme, and only those who have taken part in a course beforehand are admitted to treatment. This course is held within three weeks at the BBG Centre. Here, the causes of the disease, its consequences and the mode of action of the drugs are explained and the patients are shown that only one hundred percent compliance with the doctor's instructions will guarantee success.
AIDS tests are carried out continuously and free of charge, as is everything the BBG Centre does. On the one hand, they help to check whether the person participating in the HAART programme is consistently adhering to his or her medication schedule, and on the other hand, they enable the early detection of new infections.
Free of charge: Beneficiaries do not have to pay for any of the many services provided by the entire centre; they cannot. Everything that comes up in costs daily and over the years is paid for exclusively from donations. Father Gerhard, who confesses that he does not like to 'go begging' at all, spends months travelling around Europe to raise funds for the BBG and the people who would otherwise go without any help. The Highly Active Anti Retroviral Therapy/ HAART - programme is based on a treatment method developed in the U.S.A.. Since the beginning of this millennium, the U.S. government has been funding a project initiated by G.W. Bush: medication for HIV-infected people that, when taken correctly, prevents the deadly virus from spreading in the body; in the meantime, life expectancy has been extended by up to 30 years through this treatment. What leads to this, Father Gerhard explains to me, is that those affected can raise their children and also return to work. Every state can be happy when families remain intact and economically provided for in this way! The PEPFAR programme of the Americans has come to the aid of the whole of Africa and has done so for many years.
At the BBG Care Centre, this programme was started under medical supervision as early as 2003; a year before the government began to tackle the spread of the HIV virus nationwide. Only the recent and massive economic crisis has led to the need to find new donors after the gradual withdrawal of the Americans as financiers. For one year, the South African Bishops' Conference stepped in. During my stay in Mandeni, the good news comes that the government has succeeded in becoming the future sponsor of HAART treatment. For those significantly involved in this success (the U.S. doctor Dr Ruth Stark, her local staff and the RA of the Bishops' Conference), Father Gerhard gives a four-course dinner which he has prepared himself. With the crowning glory of his home-baked Black Forest cake, which - like the whole evening - is very well received. How amazed I am at the wide-ranging gifts of this religious man! He says modestly that he learned how to cook and bake from his mother.
He doesn't cook the Sunday lunches, which he always has with a group from the children's home, but he takes on the role of fatherly educator on this occasion. This is done one after the other, usually in the sequence of room assignments at the children's home, which is located on the 2nd floor of the BBG centre. Every child gets a turn, and these Sunday dinners, which always precede an excursion, are by no means rewards or tied to any conditions. No, it is like at home: the father points out this and that (e.g. taking medication, behaviour at the table), asks how they are doing, how school is going, etc. The children are more serious than at home. The children are more serious than at home, well-mannered and quiet; but they blossom when there is ice cream and then finally the departure for the afternoon excursion. The tireless Father gets behind the wheel and drives the children through the beautiful countryside. Hundreds of times, he sighs, he has already been to all the usual excursion destinations in the area. Because of the children. On my first Sunday in Mandeni, I am allowed to join him on the motorway heading south to Durban; at Ballito (where the nearest private hospital to Mandeni is located, I learn; the town with a total population of almost a quarter of a million has no hospital of its own) we leave the N2 and continue south very close to the beach of the Indian Ocean. We drive through the Sunday-empty city of Durban, past the pretty harbour to the uShaka Aquarium. With nine children we see sharks, lobsters, jellyfish and... countless sea creatures behind thick glass; the dolphin show arouses great enthusiasm. On another Sunday, Father Gerhard takes a group of children to Shakaland. Here, in former film sets that have almost grown into a kind of museum village, a German Benedictine explains the culture of their ancestors to the astonished Zulu children.
Father Gerhard knows a lot about the past, culture and beliefs of the Zulu people here and he never tires of telling me about them (despite his long working days with countless tasks here and in Europe). I am also allowed to browse through his countless books and ask further questions. Apart from his profound knowledge, the way he talks about indigenous cultures is convincing: objective, unbiased and without the know-it-all undertone that one can sometimes hear elsewhere when it comes to non-European topics. And he appreciates this country of South Africa with its so diverse inhabitants, to which he was sent by Archabbot Notker Wolf 25 years ago; he feels he is in exactly the right place here. The exciting, in some respects miraculous events when apartheid came to an end in democratic elections, he can describe grippingly from his own experience.
As a new member of the BBG, I am introduced to the young, very likeable doctor, Dr. Nzimande, who talks about the HAART programme and its implementation in the care centre. In the mornings he is exclusively busy with HIV patients who sit in the waiting room from the morning onwards; when their treatment is completed he comes to round 'on the ward' in the afternoon. The tasks and number of patients are as high as the mountain of Sisiphus, but this young doctor does not give an exhausted or even resigned impression at all. After the first few days I also get a nice white Maltese blouse and can look around a bit in the wards. A young and very smart nursing assistant, Fanelesibonge, immediately takes me under her wing and explains the essential work processes. On weekdays, when Holy Mass begins and the sick attend, all the faithful remain seated out of consideration. Morning care has already taken place, obviously prepared by the night shift staff. After breakfast, the beds are made, the furniture and floors disinfected; the laundry and the emptying room, even the kitchen, are working at full speed. One of the registered nurses goes from room to room to distribute the medicines and make sure they are taken correctly. The documentation is continued and is later part of the handover that takes place between the staff of the individual shifts in the conference room. When this work is done, the nurses and aides return to the wards. There is a lot of time then. People sit and talk and listen too. The common rooms are hardly frequented because the staff mostly stay with the patients. Fanelesibonge often sings and dances to it. Mostly around an old patient in a wheelchair, her mother-in-law. Singing, she throws her pretty legs in the air, any sparkle marionette would be envious, but the mother-in-law spits angrily on the floor and everyone almost falls over laughing. Then she calms down and has to laugh herself. "Gogo" (little grandmother) is what the carers say to her and all is well again. Late in the morning, Sr Augustine, the pastor, arrives. She calmly goes from bed to bed, talks and listens. At some beds she stands longer, prays for the person in it. And then everyone else is quiet. When the team has had lunch, the sick are cared for and again I am amazed at how natural the interaction is between them and the helpers. They meet at eye level, there is no talking over the heads of the patients, not even during the rounds. Then Dr. Nzimande patiently goes from bed to bed and asks about the patients' condition, looks at the patients' files, consults with the nurses and carers - and yet this gives the impression of a human visit; like everything here, it takes place without haste or hurry.
This room, where Gogo is serenaded by her daughter-in-law, quickly grows on me. Surprisingly quickly and without any words (my timid attempts at greetings in Zulu are met with amusement on all sides), only with eyes and hands; smiles go and waving. Every morning we wave to each other, delicate dark hands that are surprisingly bright on the inside. Loud elderly and very brave women lie here. Very few of them can still sit in a wheelchair, many suffer from the consequences of many years of (probably untreated) diabetes 2, open legs, severe joint and vascular damage, apoplexy-related paralysis. Only very rarely do you hear a soft cry, there is no complaining. On a Monday, the three-man team of the Malteser ambulance takes me to the surrounding settlements. After a few kilometres on asphalted roads, we lurch over the ups and downs of the dirt roads that connect the individual townships. Now, at the latest, it becomes clear why an ambulance vehicle has to have four-wheel drive in this country! The first patient today is a large, not yet old man who is sitting in all his considerable corpulence on a run-down sofa. He is alone, HIV pos., can no longer move without help. For a while he was an inpatient at the BBG centre, was admitted to the HAART programme. There is a daughter who takes care of him, but she works somewhere. He remains sitting here all day, in the one-room house, with few items that were furniture at some point. Now Nkanyiso from the outpatient team takes blood pressure and temperature and enters the values into the patient's file; asks his colleague Buhlebuyeza how the medication is going. It is very depressing. An appointment with the social worker is to be arranged. Then we leave, leaving him with the view of the green sunlit surroundings. I ask his permission for a photo, he waves at me through the blind window glass, smiles.
Indescribable conditions; heat under tin roofs, dirt, poverty, rubbish, little furniture if any. A woman paralysed by a stroke is lying outside on a mattress in the half-shade; the neighbours had called about her and are standing around her helplessly. And the Malteser team does its job, reliably, unagitatedly and again without any talking over their heads. At one point, a dispute has to be settled. Buhlebuyza, who has a very nice way of listening and letting everyone finish what they have to say, also gives the speakers time and answers carefully. It is beautiful and also convincing how these three young people deal with people in need.
I am very, very impressed by the 2 Mandeni weeks. The people here are brave and compassionate and do not stop to ask how God can allow this to happen. That there are children with HIV virus, that the wonderful co-founder of BBG, Clare Kalkwarf, was shot dead by robbers six years ago, that there has to be so much dying so early in such a beautiful country. They just carry on, every day, spirited and unconcerned. It seems to me that there is a world of difference between the lived message of Jesus in the midst of His Church here in Zululand - and the constant nagging at the Catholic at home.
Father Gerhard (who I hope will not spend himself beyond his means with all that he does daily and late into the night for this brotherhood) says that the Zulu greeting word "sawubona" literally means "I perceive you". That is exactly what is happening here in the Brotherhood of Bl. Gerhard: The suffering person is perceived, not just taken care of. And the Order of Malta can be happy about this flagship of charity in the extreme south of Africa.
Dr Katja Heering
Brotherhood of Blessed Gérard - Memoirs by Ralph Thielemann - November 2011 - February 2012
Brotherhood of Blessed Gérard - Memoirs by Ralph Thielemann - November 2011 - February 2012
Ralph Thielemann, a paramedic of Malteser Constance, visited Blessed Gérard's Care Centre in Mandeni for four months (from November 2011 to February 2012) and helped out in our various services (hospice, children's home, AIDS treatment clinic, clinic for malnourished people). He documented his experiences and impressions in film and pictures and presents them here.
Prominent members of the Brotherhood of Blessed Gérard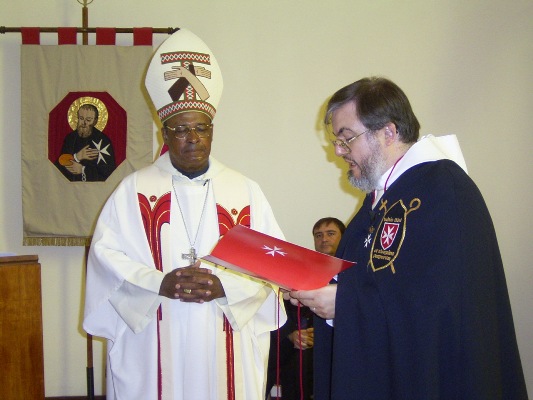 Rev. Sithembiso Ngcobo (Parish Priest of Mandeni)
Sr Theodora Ntuli OSB (Superior General of the Benedictine Sisters of Twasana)
Bishop Thaddeus Xolelo Kumalo (Bishop of Eshowe)
Father Jabulani Ndaba (then Administrator of the Diocese of Eshowe)
Wilfrid Fox Cardinal Napier (Archbishop of Durban)
Abbot Gottfried Sieber OSB (Abbot of Inkamana)
Archabbot Jeremias Schröder OSB (then Archabbot of St. Ottilien, now Abbot Praeses of the Missionary Benedictines)
Albrecht Freiherr von Boeselager (Grand Hospitaller of the Order of Malta), Praxedis Freifrau von Boeselager and Felicitas Freiin von Boeselager
Support our community and its work spiritually through your prayers!
"Everything depends on God's blessing" says a well-known proverb.
Therefore we ask you all to pray for our community and its work, but also for all those entrusted to us and all our benefactors.
We do not prescribe specific prayers or a so-called "prayer quota" for you. On the contrary, we are happy if you simply include us in your prayers.
A pious person once put it this way: "For every person who has asked me for my prayer, and for all those to whom I have promised my prayer, I make a notch in my heart - and every time I pray, I hold out my heart to the Lord with all the notches for all the prayer requests, and ask him that in his immeasurable grace he may grant all his divine help and blessing."
Every day when we celebrate Mass at Blessed Gérard's Church, we pray in the intercessions by name for all our members and benefactors who are celebrating birthdays on that day, for all those who have the anniversary of their death on that day, and we also pray daily for all those who pray for us, who support us with donations, and for our active members, that they may have strength for their service today.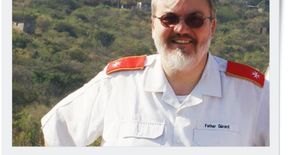 Who is Father Gerhard?
Father Gerhard T. Lagleder OSB was born, raised and ordained a priest in Regensburg. He is a Missionary Benedictine of the Archabbey of St. Ottilien and has been a missionary in South Africa since 1987.
He founded the Brotherhood of Blessed Gérard in 1992, which is now the largest Catholic relief organisation in South Africa with over 2600 members and runs the largest in-patient hospice in South Africa, a children's home and many other projects.
Accompany me in your thoughts on a day in my life
and get a glimpse of our day-to-day work on the ground.
Sending of Fr Gerhard T Lagleder OSB as missionary to South Africa on 6.1.1987
Why and when did Father Gerhard come to South Africa?
It all began on the Solemnity of the Epiphany of the Lord in 1987: sending of Father Gerhard T. Lagleder OSB as a missionary to Zululand / South Africa by Archabbot Notker Wolf OSB on the Feast of the Epiphany of the Lord, 6 January 1987, in the monastery church of the Archabbey of St. Ottilien.