Our Organisation
The Brotherhood of Blessed Gérard sees itself as a revival of the Brotherhood of St. John founded by the Blessed Gérard. It wants to revitalise the charisma of these origins and adopt them and the brotherhood's spirituality into the context of our present time and life situation.
It seeks to brotherly relate to all communities and organisations standing in the same tradition and spirituality.
Who we are ...
A group of idealists, who want to live our faith according to our motto "tuitio fidei et obsequium pauperum", which means "Protection of faith and service to the poor".
A relief organisation of the Sovereign Military Order of Malta, commonly referred to as the Order of Malta, which was founded as a Brotherhood by Blessed Gérard Tonque 900 years ago.
A charity-society dedicated to the common good and welfare of all people.
A "public benefit organisation operated not for profit" based on the voluntary service of its members.
An instrument of the Church to serve the Lord in the poor and to bring God's love to the needy through our service.
A "Private Association of Christ's Faithful" in the Roman Catholic Church, based in Mandeni, South Africa.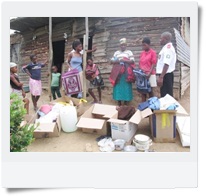 How we work ...
We serve the needy irrespective of their creed, colour of skin, sexual orientation or political affiliation.
Our members also come from different denominations and cultural backgrounds.
We take on charitable tasks according to our capabilities and the needs of the people by running charitable projects.
We are volunteers, who sacrifice our time for serving the poor.